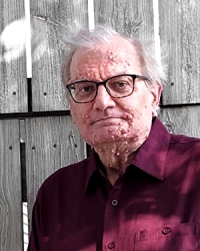 Recent Posts
Life Goes On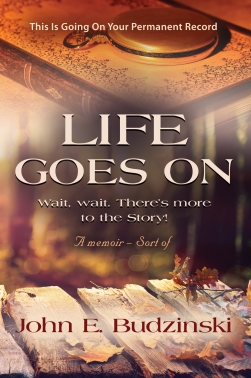 Wait, wait. There's more to the story!
By John E Budzinski
Published by BookLocker

"THIS IS GOING ON YOUR PERMANENT RECORD!"
We've all heard that bone-shattering threat while growing up. Did you ever wonder if it is all real, and if so, what the heck is in your Permanent Record? What secrets - what transgression does it chronicle? You just have simple stories created from a life that you lived equally as simple. How horrible can they be? Nothing is THAT bad- is it?
Do you have a legacy? What is it? What do you leave behind and pass on? Life's simplest moments seem to have a way of making outcomes more nutsy and weird than they should be, you know, more ridiculous than expected. Something is always out of sight, something just out of reach. Things out of our control.
"I'm a victim of circumstance... Wait, wait. There's more to the story... No, Really!"
Yep, there's no doubt about it.
John E. Budzinski takes you on a journey, wondering all the while what is in his permanent record as Saint Peter escorts him to see "The Boss." The two engage in conversations about his stories, simple moments that anyone doing any serious review and analysis of his life would pass right by. They offer no real significance. Yet, they are the simple transgressions chronicled in his Permanent Record that he wants to review and edit before showing it to The Boss.
What are they?
Spelling Bees. Blind Dates. Job Evaluations. Defacing Trees. Flower Shows. Dinner with strangers. Church Youth Groups. They are the simple stories that inundate his Permanent Record. But, there is always more to the story in each case, and poignant afterthoughts to the moments that need to be told and understood.
Excuses? Well, maybe, and as Saint Peter reminds him, "you have excuses for the excuses."
Besides wondering what is in it, what "JB" wants most is editorial prerogative to cleanse his Permanent Record, just a bit, for clarification and to keep things in perspective. All of his stories remind readers that things need to be held in perspective. In thinking about his Permanent Record, Budzinski realizes that all his actions have a way of affecting others, even those he may not know personally.
All his stories build and add to his legacy, a legacy that Budzinski wonders about and what he will leave behind and pass on to those that come after him - those that will pick up where he leaves off. Yes, there really is more to the story.
He makes his case with light-hearted explanations and well-timed humor. Yes, you see a lot (though not all) of it coming, but you laugh anyway. Lines are well-timed and weirdly make sense. Budinski's narrative style keeps readers engaged, almost as if they are co-conspirators in his adventures.
John Budzinski writes in a charming conversational tone, sometimes over-telling things and other times not telling enough, and leaving you hanging to fill in the blanks yourself. He has you wondering about your Permanent Record and what part of it you may want to edit before seeing, The Boss.
Sarcastic? Yes. Cynical and jaded? To the hilt. Yet, he fills the pages with fair assessment and with blind faith in fairness, and with his undying humor and optimism about what comes next.
280 pages | 6x9 | 978-1-64719-698-1 | September 27, 2021